Clothing detail of the week
Knowing how certain details of clothing are described can help make online ordering and searching easier. Todays detail is the peter pan collar.
The Peter Pan collar is a shirt collar that lays flat and is rounded on the edges instead of pointed. It screams feminine and girly, flirtatious and fun. It can also be viewed as a juvenile or youthful look which may not be helpful if you need to project authority but could be great fun on a date night or girl's night.
In a contrasting color it can bring attention up to your face (which is flattering to all). They can be jazzed up with sequins, beads or embroidery for an even more stand out look.
It is one of those clothing details that gets an immediate love it or hate it reaction.
2012 was the last time it was really on trend so I imagine we will see it come round again soon. Is the Peter Pan collar a clothing detail you love or hate?
I found it! This article reminded me I have an adorable detachable beaded one that I loved to wear in my 20's. Maybe I will have to try it again soon and add a little glam to my quarantine outfit.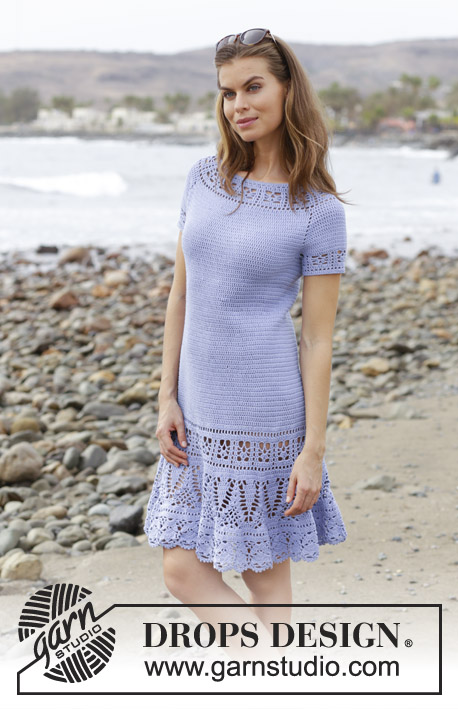 This crochet dress pattern from Garn Studio 
in Queensland is a lot like the dress my mom's friend made for me.
Clothing Trend
Crochet was hot on the runways for spring. I will never forget when I was in middle school one of my mom's friends crocheted me a soft pink dress. She must have spent hours on it. I never wore it. What self respecting middle school girl in the 70's would wear a dress with holes in it. The boys were already trouble enough. Why would I encourage even more teasing?
I flirted  with a couple more crochet things over the years including a purple bell sleeved duster style sweater that looked fabulous but had me getting hooked on every edge I encountered. Into the Goodwill bin it went.  Could I be tempted again? Crocheted pants? Swimsuit cover up? It would definitely be stepping out of my comfort zone which is what I advise clients to do – so I can answer that with a solid maybe. Perhaps a crocheted tank or a swimsuit cover up could be a solid addition to my simple and practical style.
Here is a glimpse of some of the crochet trends that went down the runway for spring. Are any of them tempting you?
Style lesson – Your body shape
When I first started trying to figure out how to dress better I couldn't believe the simple formula of body shape and how applying different suggestions based on my body shape were a great starting point to having my clothes look better on me.
An easy way to figure out your shape is to take a photo of yourself in tight fitting leggings and t shirt or tank top. Print this out and then with another piece of paper on top, trace around your outline. You can do this for front, back and profile but you really only need the front.
Then take a straight edge and hold it vertically straight down from your shoulders on the traced outline. Do your hips line up with your shoulders? Are your hips smaller or bigger than your shoulders? Does your waist indent a lot, a little or not at all? Making these observations will quickly and easily tell you your body type and get you started on learning the tricks of body balance.
Here are the body types:
Balanced hourglass – Hips and shoulders are equal and your waist is indented quite a bit
Triangle – Your hips are wider than your shoulders and your waist is indented a bit
Inverted triangle – your shoulders are wider than your hips and you have a waist
Rectangle – Your shoulders and hips are equal and your waist hardly indents at all
Round – your middle is your largest part. You usually have a larger bust and amazing legs.
The goal for all these body types is to create a look with clothing that creates the illusion of  hips and shoulders that are equal in width with a defined waist.
The goal for clothing for the balanced hourglass that already has this look is to not throw those proportions off.
Did this help you figure out your body shape? Do you still need help? Give me a call. I can help you sort out all the confusing guidelines and silhouettes to get you started on the path to giving yourself a style make over.