"I like my money right where I can see it: hanging in my closet." – Carrie Bradshaw
What do you think of this quote? First instincts? It sounds joyous especially at first glance. That is part of what made the show so fun. Unfettered joy and drama in getting dressed up and shopping. A retailer's dream show and shopper. Confetti. I wish I could feel it. But there is too much undercurrent in my thoughts to allow this to be my motto. More power to you if you can enjoy this much consumption. And if these companies that make these expensive clothes are providing quality and supporting all employees at all levels of the process from maker to seller with a supportive lifestyle including health care, a safe work environment and enough income to provide good safe food and shelter for themselves and their families then I am all in for paying the price.
I have never craved designer items – Quality might make my mouth water but not necessarily the name attached to it. And I certainly wouldn't spend on a designer name unless it was quality or secondhand. Do you think new cars lose value as soon as you drive them off the lot? Well then the depreciation on a clothing item as soon as you take it out of the store would blow your mind.
I just did a quick search on the Real Real for Prada shoes. A low top Prada sneaker at Nordstrom retails for $590 to $620. On the Real Real a never worn leather sneaker is $225 and you can get a 20% off coupon.
Now let's look at the traceability of their supply lines. I am not picking on Prada it just happens to be the first designer line that came to mind in my search. Before starting this article I really hadn't done much research into them but now I am curious. I pulled up my copy of the  2020 Fashion Transparency Index and looked up Prada in the traceability scoring.
Traceability includes such things as:
Does the brand disclose where their final production factories are?
Do they disclose their processing facilities that are earlier in the game – ginning, spinning, embroidering, dying etc. ?
Do they disclose their suppliers of raw materials?
Do they do any tracing on their suppliers to make sure they are being told the truth? 
Then are they sharing verified information about these facilities including: 
The address of the facility
The types of products/services made in each supplier facility
Approximate number of workers
Sex-disaggregated breakdown of workers at each site
If the facility has a trade union
If the facility has an independent worker committee
% of migrant or contract workers
Name of parent company
The business relationship between facilities at different levels of their supply chain
If the list is available as a csv or Excel spreadsheet
If the list was updated within the past 6 months
I hope you can see why this information is so important to determining if a fashion supply house is just giving lip service to responsibility or really participating in making the world a better place.
Prada scored in the 11-20% range.  
You can get your own report and look up your favorite brand here: https://www.fashionrevolution.org/about/transparency/ 
So I'm sure none of this was on Carrie's mind but if it was I am all in.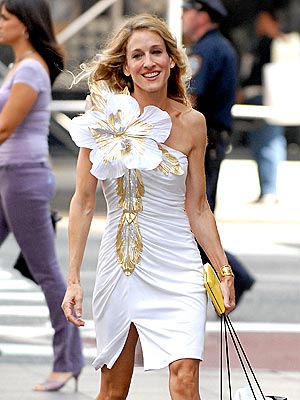 Photo from https://sexandthecity.fandom.com/
Do you have a clean organized closet?
Creating one is well worth your time. Doing so can help eliminate confusion in the morning, up your style game, give you a plan for shopping that will help eliminate duplicate purchases, fill holes in your closet, help you see what you really have and finally help save the earth. 
When it comes to closets I believe less is more. Evaluating your lifestyle in terms of what you really need to own in terms of clothing, evaluating your style in terms of how you want to be perceived,  and paying attention to what sorts of clothing brings a smile to your face when you put it on is the first step in culling. 
How many pairs of black pants or blue jeans do you really need? There are only 7 days in the week. If that was all you wore and you only did wash once a week then 7 would be the max (assuming you can't wear them more than one day a week between washing). Do you keep going out and buying black pants? Why? Evaluate your lifestyle to see what you really need. 
Do the clothes you own reflect you the way you feel and want to be seen?  Having clothes with holes in them may be how you want to reflect if you are proud of the fact that you reuse and never buy new. A better choice might be to do an artistic mending job, alteration or remake so this wear looks planned and not inadvertent. If wearing clothes with holes in them is not a choice you are consciously making and you don't want to repair, then get rid of them. Goodwill and other textile recycling organizations now take ripped and stained clothing and turn them into other items. They no longer need to go in the garbage. So get rid of them without guilt and try to buy better quality next time. 
When you look at the clothes in your closet, which items bring a smile to your face? Which items do you wear most often? Are there things hanging there that bring you grief instead of joy? (i.e. too small or last worn on divorce day?) Get rid of them. They are keeping you stuck. Life is short. Let's have some forward motion. 
If you want to get started on your own, try my closet makeover plan for free. 
If you need help, drop me a line.
Fashion Trends
Summer 2020 yellows Saffron, lark and sunlight 
Yellow! Yellow! Yellow! Brings me joy. Please wear some.
Clothing detail of the week- portrait collar
This vintage style collar is a face framing gem and attention getter. It is very large and wide. It is probably called a portrait collar because it frames your beautiful face and highlights your neck and upper chest. It can be sexy or subdued depending on styling.  The collar can be simple or ruffled. The same color or a contrasting color.
Try one out and be framed.
Triangle guidelines – always a guide NEVER a rule 
The triangle body shape is larger on the bottom than the top. To achieve body balance which is a trompe l'oeil  that creates a top and bottom that are equal with a defined waist, make the upper body look larger. This can be done with color – (like one of the 2020 yellows worn with a darker bottom) or print or it can be done with design details like necklines, ruffles, sleeve styles, seam lines.  The portrait collar discussed today moves all the attention up! 
As a general rule for every body shape you want to avoid straight lines across the widest part of your body. This means don't have a hemline or color break across your hips which are the widest part of a triangle. Instead move that hem up or down to a narrower part of your body. Another option would be to make that hemline a diagonal or vertical that moves the eye up and down not sideways.  The design lines should always lead the eye to where you want it not where you don't. 
Play around, try something new and have fun experimenting. Look at the items in your closet with this in mind. Are there some items you like? Could any of these guides be part of the reason?